Earlier this month, we revealed to you that the Animation Film susume by the famous Japanese director Makoto Shinkai had broken this incredible record by achieving an impressive start when it was released. A new project where we can then find several references to certain classics of the famous Studio Ghibliand in particular to a certain cult work by another renowned Japanese director, namely Hayao Miyazaki.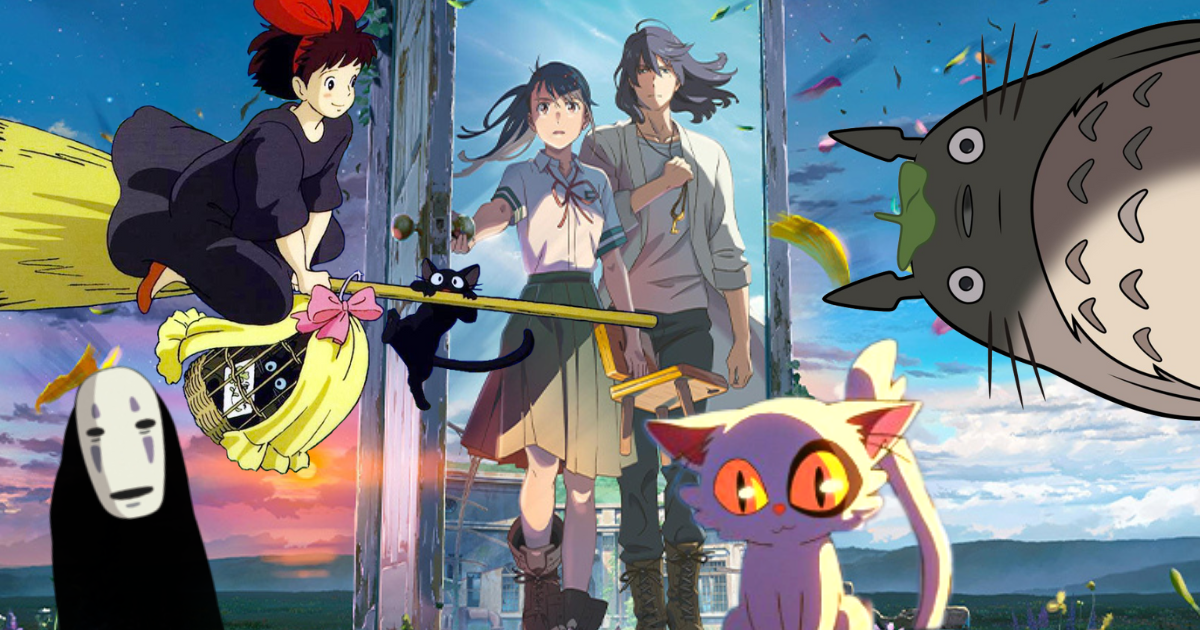 makoto shinkai's source of inspiration
Released on April 12, 2023 in our cinemas, susume (Or Suzume no Tojimari in VO) is Makoto Shinkai's new animated film. The director is particularly known for the short film The Garden of Words (2013), but also and above all for the film Your Name (2016), and more recently for The Children of Time (2019). The project is once again produced by the studio CoMix Wave Filmswho had distinguished himself thanks to previous Shinkai titles among other things.
The story is centered on the character of Suzume, a young high school girl who lives with her aunt in the Kyushu region. But his daily life will change after meeting Sota, a young man who is looking for ancient ruins, and more precisely mysterious "doors". Because these doors, which appear everywhere in Japan, contain devastating forces, which can completely ravage the country. The young Suzume will thus travel through Japan with her new friend Sotahoping to lock these famous "doors".
With this new work, Shinkai therefore seems to have moved away from the love stories (even if love is never far away of course) that we could find in his previous feature films, getting closer to the messages conveyed by Studio Ghibli projects, and in particular by the films of the famous Hayao Miyazaki. During an interview with Looper, Shinkai went into more detail about how Miyazaki and Studio Ghibli inspired him to susume, and more generally for his career. He said:
The effect of Miyazaki and Studio Ghibli is not limited to this film. If I became an animated filmmaker, it's largely because of what Studio Ghibli has done over the years. Whether it was a conscious or unconscious decision, the studio had certain effects on my own works.
This is why we can find several references to certain Studio Ghibli filmslike If you listen (1995) by Yoshifumi Kondo with the Daijin scene on the train. But Shinkai also wanted to pay tribute to the director who inspired him, giving a nod to the film. Kiki's Delivery Service (1989), the fifth film directed by Miyazaki. He explained this:
As for Suzume, I made some homages to the Ghibli movies. For example, when Suzume travels by car, [on peut entendre] Kiki's Delivery Service theme music ["Rūju no dengon"]. It's the same song Kiki listened to in the opening of Kiki's Delivery Service.
By incorporating some Studio Ghibli classics into susume, Shinkai wanted to create a kind of connection between the world of animated film and the real world.. A link that also allows you to tackle more serious topics, such as the devastation caused by the 2011 earthquake on the Pacific side of Tōhoku:
By introducing these easter eggs in the film, I wanted the world of Suzume to be almost [une] extension of our own reality, because we are dealing with a very heavy theme, the 2011 earthquake in eastern Japan, which happened in real life, but also in the world of Suzume. How to make the link between these two realities and place them in the same context? I would say that most, if not all, of the Japanese population, and especially the younger ones, have seen the Ghibli films. So they would have seen Kiki's Delivery Service the same way Suzume saw her in the movie. Saying that Ghibli exists in Suzume's world brings his world closer to our own reality, which makes it very relevant.
And to find out the top 8 most anticipated animated films of 2023see our previous article on the subject, right here.